Rapid Impact Compaction
Dynamic Compaction Ground Improvement
Overview
Rapid Impact Compaction (RIC) system is a mobile carrier, dynamic densification, ground improvement method used to compact and improve shallow to intermediate loose soil and fill. RIS is the fast and mobile version of deep dynamic compaction. The RIC system uses "controlled impact compaction" at the ground surface where the rig hammers a heavy weight onto the patented compaction foot to send dynamic compaction forces into the ground. Energy is transferred to the soil safely as the RIC foot always remains in contact with the ground. The RIC compaction points are spaced on a regular grid pattern over the site based on the soil conditions and desired compaction results. The improved soil exhibits increases in density, higher shear strength, and improved stiffness. Ground vibrations can be high and similar to pile driving. RIC is very cost effective compared to other vibratory ground improvement methods and comparable to grading earthwork for the upper soil layers of a site.
RIC Applications
Use to increase the lateral capacity of deep piles, to mitigate liquefaction, and to support shallow foundations and mats. The ideal applications for RIC occur at:
Loose sand soil sites where silt and clay contents are low.
Hydraulic fill and debris fill sites.
Contaminated soil and undocumented debris fill sites.
Sites where excavation may be 3 to 10 feet to re-engineer the fill.
Sites where noise and vibration are OK.
RIC 4-Step Construction Process
Testimonial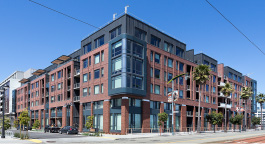 Mission Bay Block 2 & 3
San Francisco, CA
"Because you are a licensed geotechnical engineer, I can always count on your honest feedback and discussion regarding foundation solutions. With Farrell, we get a well-engineered solution that is reliable, appropriate, and will ultimately save our client time and money."
Frank L. Rollo
Principal Engineer
Langan Treadwell & Rollo

Technical Details
The Rapid Impact Compaction system (RIC) provides excellent compaction and ground densification for loose soil near the ground surface. RIC employs a CAT 345 mobile carrier that allows for quick movement from compaction point to compaction point. The CAT 345 has a hydraulic hammer with a 7.5 ton (67 kN) weight that is dropped 3 feet (0.9m) onto a 5 foot (1.5m) diameter compaction plate. Each impact blow delivers about 45,000 ft-lbs (61 kN-m) of energy per hit. The process is quite fast, as the hammer hits the ground at roughly 40 blows per minute. This unique equipment and process is capable of delivering enough energy and force to compact and increase the density of soil to depths of 10 to 20 feet (3 to 7m) and up to 25 feet (7.6m) with ideal clean sand conditions. Cone penetration tests are performed to confirm ground improvement of the soil between and below RIC compaction points.
RIC compaction parameters include energy, blow counts, energy per blow, and deflection per blow, total deflection per compaction point; that are automatically measured and recorded with the on-board computer. Once RIC hammering is started the operation continues until 1) 40 blows of impact have occurred, 2) 30" (762 mm) or more total deflection is measured, 3) the deflection per blow is less than 0.1" (3mm), or 4) when manually stopped by the operator.
Monitoring hammer deflection is key to quality control and determining improvement at every compaction point. As the hammer hits, the displaced deflection is measured and recorded on a per blow basis to determine when compaction of the soil or fill is complete.
Rapid Impact Compaction RIC is a fast, dynamic compaction, ground improvement that supports your project to Go Vertical with Confidence®!