Impact
®

Pier

Displacement Rammed Aggregate Pier®
Overview
Impact® Pier, a Rammed Aggregate Pier® system, (IRAP) is a full displacement, aggregate pier, ground improvement method used to improve loose soil for liquefaction mitigation and support of shallow foundations. IRAP uses vertical, vibratory, displacement technology (vibro-rod) to improve loose soil below groundwater; including loose sand, silt, mixed soil layers, and uncontrolled fill. The vibratory compaction and ramming of thin lifts of crushed rock produces cavity expansion effects that increase soil density, increase soil strength and stiffness, increase bearing capacity, reduce soil compressibility, and increase soil shear strength. IRAP is commonly spaced on an equilateral triangle grid below the site to create overlap improvement zones of the loose soil. The overlap zones are required to effectively mitigate liquefaction with increases in soil density at the center of IRAP groups. IRAP improved soil can resist liquefaction settlement and support heavier loads on conventional shallow spread and strip footings with reduced settlement.
IRAP Applications
IRAP is used to mitigate liquefaction and to support footings, slab-on-grade, footings, mats, MSE walls, and industrial foundations. The ideal applications for IRAP occur at:
Loose sand and silt sites with high ground water.
Liquefiable sites with seismic settlement.
Sites that required gravel drains.
Sites where vibratory ground improvement will be effective.
Fill sites with high ground water.
IRAP 5-Step Construction Process
Testimonial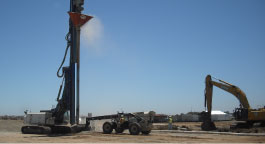 Ironhouse Sanitary District WWTP
Oakley, CA
"This project was particularly challenging with the loose sand conditions to depths of 30 feet. Farrell installed a Rammed Aggregate Pier system known as Impact Pier — an innovative vibratory, displacement, ground improvement method to improve the density of the sand and increase the bearing capacity of the soil. It worked great."
Micah Addison
Project Manager
Western Water Constructors

Technical Details
The Impact® pier, Rammed Aggregate Pier® system (IRAP) provides great ground densification for liquefaction mitigation and foundation support. The IRAP displacement mandrel tool is shaped to displace the soil down and laterally into the ground. The IRAP is built with repeating vibro-drive strokes of the displacement tool to ram and compact select crushed rock into the ground. The displacement tool and the vibro-rod ramming effect result in a coarse sided IRAP with finish diameters greater than 100% of neat tool diameter. The high frequency vibro-rod effect increases the in-place density of loose sand at distances of up to 8 feet (2.4m) from the tool. The diameter of IRAP can be increased with multiple drive strokes resulting in more densification and soil improvement.
IRAP are usually installed in sandy, high ground water regions, eliminating the need for steel casing of drilled holes. IRAP can be installed with a single steel bar or fluid grout to increase strength and resist tension forces. Full-scale load tests are performed on IRAP to confirm design bearing capacity. Cone penetration tests are performed to confirm ground improvement in the soil between groups of IRAP.
Farrell uses heavy, fixed mast, piling rigs to install IRAP. Farrell operates Leibherr and Bauer piling rigs. IRAP is commonly installed to depths of 15 to 40 feet (4.6 to 12m). Farrell installs IRAP with displacement tool diameters of 16" (406mm) and 18" (457mm). Finish IRAP diameters are typically 18" to 30" (457 to 762mm). The piling rigs are equipped with electronic monitoring systems to record rig crowd force, drive depth, and vibration frequency.
Impact® pier IRAP is a full displacement, vibro-rod, densification, ground improvement that supports your project to Go Vertical with Confidence®!
Geopier systems by Farrell in Northern California.
Geopier, Impact, and Rammed Aggregate Pier are registered trademarks of Geopier Foundation Company, Inc.